This is the message that reappears very often: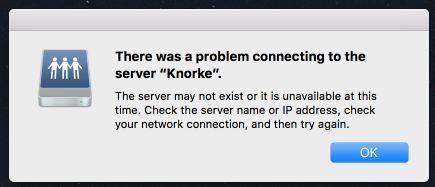 The server in question ("Knorke") is my old MBP, which I reset (clean install) and sold about two years ago. On my current MBP, I connected to the old machine sporadically via AFP because I used it for testing purposes, being a spare machine and all.
Ever since then, I have not found a way to prevent this message from appearing occasionally. I tried cleaning the "recent servers" menu (from Finder's ⌘+K) and have been googling the problem on and off, but have found no solution.
Oddly enough, the message consistently reappears when I start Slack.app, and I believe it also occurs with other Electron-based apps, but that's just a guess on my part.
I am hesitant to try out all kinds of "cache cleaners" and the likes that float around on the internet, as the general opinion seems to be that they're doing more harm than good, so I would prefer a specific solution for this.