Sometimes on OS X Yosemite my connection to a shared network server is stick connecting, while the server is available. OS X simply won't connect to it using Finder and the Connect As... button doesn't respond. It won't eject either. Only a restart fixes everything again, a relaunch of Finder doesn't help. I am wondering if there's a fix or easier workaround for this.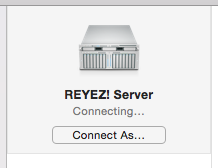 Edit: I'm not even sure it can connect to any shared computer at all when this happens and it seems Finderaccess is fully broken.
Update: I'm going to try a few other methods to connect to the server found on http://www.macworld.com/article/2012153/eight-ways-to-connect-to-a-server.html whenever the issue reoccurs.
Update: I found that the process that (I guess) arranges the connection from OS X to the server using SMB hogs up a lot of memory. The command of the process is /usr/local/sbin/smbd -D -s /usr/local/etc/smb.conf. Killing it on the server remounts the drive on OS X and makes the slowness disappear. On another note: OS X also often mounts multiple instances of the server, appended with -1, -2 etc. I'm still not sure what causes the issue, but at least I have a quicker fix than a reboot.